TESLA'S SECRET
PRISON BREAK
KA PUKA BUNKER
PIRATE SHIP
ENTERTAINMENT THAT
BRINGS YOU
CREATIVE CHALLENGES
Find the hidden clues. Think outside the box. Solve the puzzles. And race against the clock to uncover the mystery! Keep your wits about you, and when you start feeling the pressure, make sure you stay level-headed. Remind yourself that it's just a game. Or is it?
TEAM BUILDING
Collaboration and teamwork are an absolute must for success! Designed to build team chemistry and create social interaction, our escape games are amazing team-building exercises for all types of businesses and organizations. All sorts of interesting personality and unique character traits are revealed in the game!
FUN FOR ALL
Room escape games are an exciting entertainment experience for people of all ages and skill sets. Immerse yourself in a fully themed escape adventure, where no special knowledge is required to play, and there is no intense physical activity within the game. All you need is the willingness to have a good time!
TESLA'S SECRET INHERITANCE
The Hawaiian islands take you back in time, and, it is said once in a blue moon, you have the chance to discover something special. On one of those mystical nights, the energy can buzz through the night air and transport you somewhere else… sometime else... into one of the greatest minds the earth has ever known... Nikola Tesla! Match wits with the genius and he will relinquish his secret patent!
Tesla's Inheritance is a 60 minute escape room set in a Victorian themed escape room in New York.
Players: 2 - 5
Price: $38 per player.
KA PUKA BUNKER
While hiking a secret jungle trail in the Hawaiian wilderness, you and your companions stumble upon an abandoned World War II artillery battery. Unable to resist, you enter Ka Puka and immediately realize your mistake. A booby trap seals Ka Puka and activates the self destruct mechanism. The countdown timer begins… you have 60 minutes to deactivate the bomb and escape entombment in Ka Puka!
Ka Puka ("The Hole") is a 60 minute escape room set in an abandoned military bunker in Hawaii.
Players: 2 - 10
Price: $38 per player.
PRISON BREAK
Slam! The bars slam shut on last night's shenanigans on Front Street and the guards exchange high fives on their way out the door, headed to the beach hoping to hang ten during an hour long surf sesh. Fortunately, you heard from someone who heard from someone else that there's a way out. You've got a man on the inside if you need some support, but you are racing the Hawaiian tides and those hang-loose guards!
The Prison Break is a 60 minute escape room set in West Maui County Prison for all levels players. Players are separated in two adjacent cells to start.
Players: 4 - 10
Price: $38 per player.
PIRATE SHIP
Ahoy mateys! During your sunset cruise, Captain LavaBeard, the terror of the Hawaiian Islands,and his merry men came alongside your ship, boarded it, and took your group captive before scuttling the silly sunset catamaran. He and his crew are now off to Lahaina in search of more spoils which gives you the opportunity to explore every nook and cranny of his puzzling ship to figure out how to escape.
Pirate Ship is a 60 minute escape room set aboard Captain LavaBeard's ship. Players start separated in adjacent locations. Players: 2 - 8 Price: $38 per player.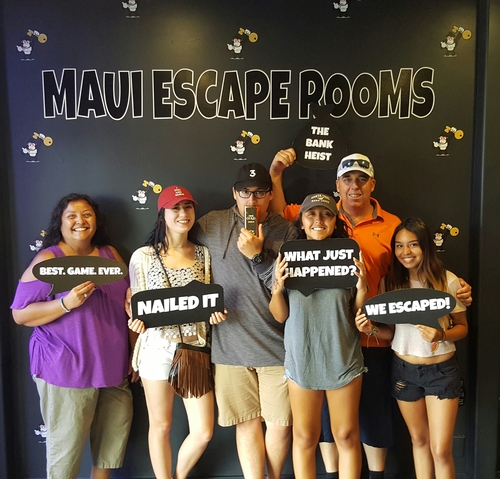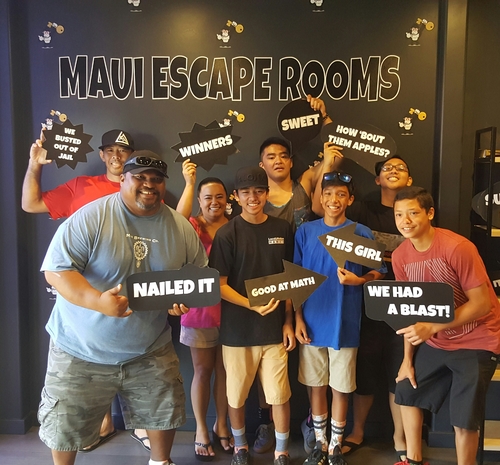 LOCATION
Whaler's Village Mall, on the 3rd floor!
2435 Kaanapali Pkwy, Lahaina, HI 96761
WALK INS WELCOME, RESERVATIONS RECOMMENDED.
Monday - Sunday
10:00 am to 10:30 pm
Yes, we validate parking!